---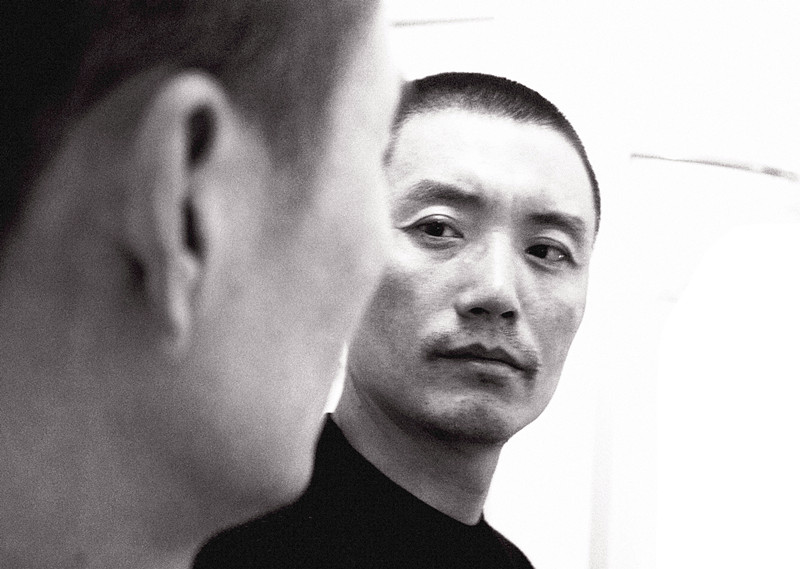 Theater director, film director, sculptor, physical performance artist.
As more and more of his works receive awards from and invitations to leading art and film festivals, 40-year-old Li Ning has already become one of the China's leading figures in experimental film and physical theater. After entering the sculpture program at Shandong Art School in 1993, he began studying modern dance and performance with renowned choreographer Jin Xing. In 1997 he founded his own physical arts collective "J-town Physical Guerrillas " which has performed throughout Beijing, Shanghai, Hong Kong, Macau among others, and for the past twelve years, Li's "Made in J-town Film Lab" has lead the way in pushing China's boundaries of exploration in film and performance.
Li's creative works as well as his critical analysis about art have circulated widely among and made a significant impact on the younger generation of China's creative community. As part of his long-term creative development, Li is developing ways to interweave three strands into an entirely new pedagogy and curriculum of physical training he calls "Drawing Life Theater": researching new ways of training the body, creating work based on one's personal background, and visual arts theories of observation. The goal is to create a training method that would allow non-professionals to quickly enter the realm of performing arts as performers while also being useful for professionally trained artists. Currently he is practicing this training method in various schools and community centers throughout China in order to build a bridge between average citizens and the contemporary arts.
The Physical Guerrillas is an activist-oriented, physically-oriented performance group. Their performances have been selected and invited to theatres and international art festivals worldwide. Their social and artistic agenda is to intervene in social events and create social space for performance and action. For 15 years, they have been standing shoulder-to-shoulder with China's underclass, bringing their performances to both urban and rural areas, actively interacting with the "here and now" of society, and determinedly devoting themselves to the process of democratization in China.
As the leader of the performance group, Li Ning has constantly fighting with exterior confinement and interior fear.
The end of the year,  He received the support of theInternational Foundation, to complete his work. Such as:
"Doen Found". Netherlands,"Young Choreographers Project"
"Chin-A-Moves", The European Union cultural project supports.
"Indie Cinema Fund",Beijing,China 
Exhibitions and Art Festival:
2016
Le Festival d'Avignon,Off
Wuzhen Theatre Festival, In
Kochi-Muziris Biennale
2015
Sanxingdui Festival,In
Beijing Fringe Festival,
2014
Festival B:om,Seoul.
Taiwan International Documentry Film Festival, Taipei
The Beijing Fringe Festival, Beijing.
The 15Th OPEN International Performance Art Festival,Beijing. 
2013
HONG KONG Independent Film Festival
2012
Festival Contemporâneo de Dança in São Paulo  , Brazil.
Tanzplattform in Dresden ,German.
SPRING FESTIVAL ,Cherbourg. France
Festival/Tokyo 2012, "Residency East Asia Dialogue",
2010
Culture Scape ,Switzerland
Aurillac Art Festival , Aurillac, France
Ghent Arts Festival ,Belgium
2009
"I-Dance" festival ,HongKong
"Dance film screenings special"
DANSENS HUS MØLLVERIEN 2 ,OSLO,Norway.
2008
City Festival 2008,HongKong
Chinese Contemporary Art Exhibition, Groningen, Netherlands
Julidans Festival, 2008,Amsterdam, Netherlands
2007
Julidans Festival, 2007,Amsterdam, Netherlands
WORKS:
Theater Performance:
 The Life of J-town (2000); Dream/Cord/Bird's Egg(2001); prepar(2004); Cotton-wadded Quilt Seven Days (2005); The Drawer (2006); Sticky Tape(2008)
Preparing(2009).Absence(2010). The Freeze/Satellitte (2011). Limbs (2012)
Site-Specific works and performance:
Fable (2005); Crisis (2007); Han Kou Show(2009),Protest against the Department of Education(2010) , Southern Weekend (2013)
Film:
Objects (2002); Untitled-3 (2003); Shadow's body (2004);1966/1986/2006 (2006); Unfinished-2(2007); Land Forms 2 (2008); Tape (2010),The Homecoming of The Body (2012)…
Painting, Photography, Etc:
Presentiment of Destruction (2007), etc.
AWARDS:
2002: Dream/Cord/Bird's Egg – Gold medal in the Beijing International Modern
Dance Week
2003: Untitled-3 – Critic's Choice in Hong Kong's Jumping Frames Dance Video
Festival
2003: Named "New China Dance Youth" by Hong Kong Cultural Development
Bureau
2005: Invited to participate in Beijing Dashanzi International Art Festival (DIAF)
Video Forum
2006: Gold medal from The Netherlands Done Foundation "Young Directors Project"
Land Forms 2 commissioned by Julidans Festival in The Netherlands
2007: 1966/1986/2006 – highest honors at Shanghai Mecooon Freedom Film Festival
Day of Tape – highest award for creativity in Shanghai Idea Art Festival
2008: Unfinished-2 – highest award for experimental short in Fifth Annual China
Independent Film Festival
Land Forms 2 – highest award for experimental film in the Third Annual Beijing
Independent Film Festival
2009: Sticky Tape – grant from EU-China young directors exchange project
"Chin-A-Moves"
Land Forms 2 screened at 24th Torino International Gay& Lesbian Film Festival
2010.  
The 7th  China Independent Film Festival, Excellent Award
2011.
The 40th Independt Film  Festival Rotterdam, Official Selection
The 5th YunFes Documentary Festival, Silver Digital Award
2011
Beijing Fringe Festival, the best cross-borderexperiment Award
The 10th MoMA Documentary Fortnight, Official Selection
The 12th Jeonju International Film Festival, Official Selection