Few words about the organisation Hybridités France-Chine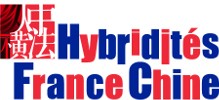 Hybridités France-Chine was founded by an French scholars of theatre at Paris-Ouest-Nanterre-La Défense University and a senior professor of French University Institute, Christian Biet and a Chinese theater producer and playwright and an arts festival curator, Wang Jing.
Our members are made up of artist, playwright, curator, artistic director and scholars from France and China. We aim to promote cultural exchange and cooperation between China and France, and other Francophone countries, especially in the field of stage art and contemporary art.
"Dialogue between the arts workers of different cultural backgrounds can be converted into a source of inspiration to each other. What we are looking for from others is sometimes the most beautiful but the least invisible part of ourselves."
With numerous cooperations with arts festivals and theaters in Europe, Hybridités France-Chine have accomplished many intercultural projects such as theater exchange, art festival theme planning, exhibition planning, theater workshops, international academic conference, academic journal publishing, film critic alliance, etc.