Rhinoceros in Love, masterpiece of Chinese contemporary theatre, began European tour in Paris during the Spring Festival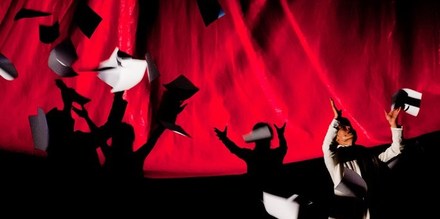 Feb 8 – Feb 11 2017 – Théâtre 13 / Seine
Rhinoceros in Love
Playwright: Liao Yimei
Director: Meng Jinghui
Public : à partir de 14 ans
Duration : 1h10 sans entracte
Language: en chinois surtitré – dans le cadre de Nouvel an chinois
Production : Meng Jinghui studio
Coproduction : Hybridités France-Chine
---
Rhinoceros caretaker, Ma Lu, and his secret love, Mingming, share an intimate encounter, but the girl leaves him the next day. To win Mingming's heart, Ma has done all he could, but is overwhelmed by a deep desperation. To help him, salesman Toothbrush finds two young girls, Honghong and Lili, to pretend to be Ma's admirers in an attempt to make Mingming jealous. Unfortunately, Ma's madness results in his love broker's theory becoming a complete failure. At a night, Ma, as crazy and stubborn as a rhinoceros, kidnaps Mingming in the name of love.
---
Rhinoceros in Love has been a standout in Chinese theaters. Despite early criticism by drama critics, the drama was an immediate success when it was launched in 1999 and since dubbed "The Bible of Love for Youngsters" "The Miracle of Chinese contemporary theatre" in China. It was performed more than 1500 times in 40 cities around the world over the past years.
Rhinoceros in Love tells the story of desperate love, persistent pursuit and literary beauty, it has been so attractive and different because of its remarquable stage design, excellent performance on the stage, narrative storytelling style and poetic lines. Over more, the play raised the attention in society of China, the liberty to express ourselves. The story has became a collective memory for youth, it witnessed the growth of millions of people, and influences peoples's attitude about love, dream, interpretation of themselves even today.
More information: http://www.theatre13.com/
---