The exposition « Rouge de Chine » started sunday may 22th 2016, at Alliance Française Beijing French training center, with great success. these expositions aim to raise awarness of european comics in China.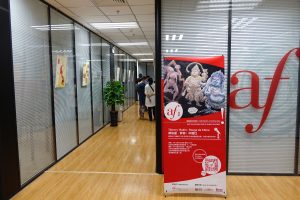 This year we have chosen to present the great work of Thierry Robin, with his fantastic chinese saga Rouge de Chine. Also, we'd like to thank Delcourt and our friends from Culture Chine France for their support.
Being an writer, an designer and a colorist, Thierry Robin has been passionate for China for the first time. In Rouge de Chine, he made a poetic and fantastic series, in which the dream meet the reality permanently. If you don't know this saga, I'd like to advise you to read (Fiche BD).
At the occasion of the opening, we have arranged a meeting between thierry robin and Li Zhiwu, a Chinese author of LianHuanHua (autor especially of « Au Pays du Cerf blanc ») , so that they can share their ideas on their work and the cultural particularities of comic books in France and China.